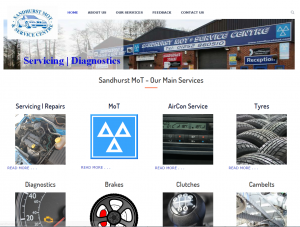 The main Sandhurst MoT Site (click to open the site)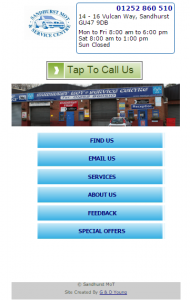 The site as seen on a mobile device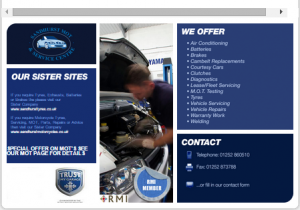 Sandhurst MoT are a local garage offering a range of services – routine car servicing, diagnostics and repairs, MOT, air conditioning servicing, tyres, exhausts etc. They had an existing website, but it failed Google's mobile friendly test and they wanted a more modern look and feel to the site.
We designed and built the new site using WordPress. As a result, the website is fully responsive, hence the layout adapts to the size of the screen. This means that the site is always legible whereas the original site simply shrank the site so that the text could not be read on a small screen without zooming.
In addition, we designed a mobile friendly site that displayed on mobile devices. This meant that we could build in "Tap To Call" buttons, link directly to Google Maps to provide users with the facility to get accurate directions from wherever they were to the garage and have "thumb-friendly" buttons instead of fiddly hyperlinks.
We also incorporated a "Request For Quote" form allowing site visitors to submit a request for a quotation for work. This allowed the garage staff to take more time to generate the quote and answer the email at a convenient time rather than have phone calls at busy periods from people asking for quotes. This has proved very popular.
By incorporating an automatic link to a mailing list program from the on-site forms, Sandhurst MoT are building themselves a very valuable email list. This will allow them to send off an email to all their subscribers at any time with special offers etc. Direct mailings such as this have a very high open rate and are a great way of boosting business for extremely low cost.