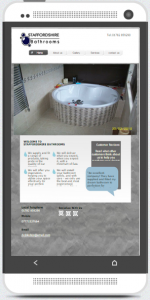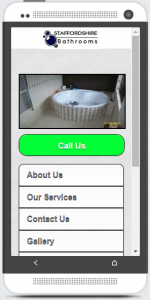 The Staffordshire Bathrooms Mobile Site
Staffordshire Bathrooms already had a main website, but it was not a "mobile-friendly" one. We created a mobile friendly variant which matched the main site but which was much easier to use for a user on a smart phone.
The photos show what the site looked like before our changes and after on a mobile phone. You can see that the mobile friendly version has easy-to-tap buttons – no fiddly hyperlinks. The text is clear without zooming. The Call Us button is clear and easy to use. A gallery of work and customer testimonials are included.
Customers and people seeking quotes are now able to call Staffordshire Bathrooms with just a couple of button taps – no need to enter the number or look it up in their contact list.